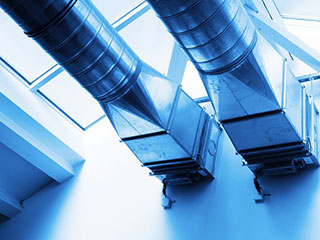 At Air Duct Cleaning Poway we are committed to ensuring that your place of work enjoys high quality, clean air flow by offering professional industrial air duct cleaning and sanitation services. All of our professionally trained commercial air duct cleaners have the experience and skill necessary to ensure that your place of work is contaminant free. So, give us a call today to find out more about the cleaning, sanitation and testing services we have to offer. Here is a little bit more about how we can help you:
Testing The Quality of Your Business's Air
A good first step towards ensuring that your industrial air ducts are performing to expectation is to have one of our technicians perform an indoor air quality test at your place of work. When ventilation systems get clogged with excess dirt and debris, it often leads to an increase in the number of contaminants in the air. These contaminants may lead to the spread of germs which cause ailments, spread flu and ultimately result in an increase in employee downtime. Speak to us today to have the quality of the air in your workplace inspected to determine if your vents need cleaning or not.
Professional Commercial Air Duct Cleaners
Our collection of professional commercial air duct cleaners will help you lower the levels of contaminants in your air by sanitizing your ducts and vents with professional cleaning services, geared towards keeping the air in your office fresh and safe to breathe. So, call us now to have your ducts seen to by a thorough professional.
Clearing Dryer Vents
Dryer ducts work more effectively and efficiently when they are cleared of lint and debris, resulting in lower power costs and better drying power. A dryer that has taken on too much lint may even pose a risk of fires. In order to keep your business running economically and safely, have our team provide you with dryer duct services such as cleaning and inspections.
If your place of work suffers from bogged-down vents and inferior air quality, don't wait for the problem to worsen before you take action. Speak to one of our consultants from Air Duct Cleaning Poway for more information on having them inspected and cleared by an experienced professional.