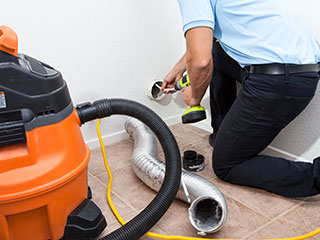 Tip tap. Tip tap. Tip tip tip tip tip tap. When such sounds start coming from the air ducts, it is probably not Santa fumbling around in the dark, looking for his way to your chimney. In most cases, it's much worse news.
While most people remain unaware of their house's ductwork when everything is working properly, the minute something goes wrong, or disturbing sounds start coming out of it, it becomes their single most burning concern. The thing is that in most cases, hiring periodic air duct cleaning services could have easily prevented such issues.
Air Duct Cleaning Services – Introduction
What's that, now, you ask? Yes, many people opt to hire periodic air duct cleaning services in order to make sure everything is under control and remains so. Such solutions are usually offered by trained professionals who come fully equipped and prepared.
Once they remove all accessible vents, they proceed to thoroughly clean each and every duct from anything that might be holed up in there, or from anything disturbing the free flow and passage of air. Such disturbances can be accumulated dust, dirt or dead leaves swept in from the outside, dead rodents, and the like. These all prevent fresh air from easily flowing into the house, and from used air to be easily removed from the premises.
How Should I Prepare For the Cleaning Crew's Arrival?
When our Poway clients hire us to deliver professional air duct cleaning services they often ask us how they should prepare. Since we do most of the heavy lifting, all you really have to do is take care of clearing the access to the ductwork's vents so nothing will get in the way. It's also important to inform us of anything we should know such as previous problems you've had in your house, any specific disturbances or sounds, and the like.
When in Need or in Doubt
Whenever you find yourself in doubt if your air ducts really need a good cleaning or not, or whether you realize you do need such services, don't hesitate and give us a call right away. Our expert technicians are always available and eager to help Poway's local community both with expert advice and solutions.